EXPLORE THE BEAUTIFUL AND COLOURFUL REEFS OF THE EASTERN CAPE. COME FACE TO FACE WITH RAGGED TOOTH SHARKS IN THEIR NATURAL ENVIRONMENT, AND EXPERIENCE THE EXHILARATING ANNUAL SARDINE RUN, GETTING UP CLOSE TO DOLPHINS, WHALES, SEALS, PENGUINS, SHARKS, AND BIRDS.
Algoa Bay embraces a Marine Reserve that includes two island groups. It also has a Wildside, on the South of Port Elizabeth's coastline, and together there are an enormous variety of reef and wreck dive sites.
The beautiful and colourful reefs, drop-offs, pinnacles, deep gullies and an exceptional diversity of soft corals and marine life makes Algoa Bay a rewarding and exciting scuba diving destination.
Evans Peak needs a special mention and is situated close to St. Croix Island and showcases some of the best diving in the area.
Algoa Bay is also on the migration route of many large mammals, sightings of Humpback and Southern Right Whales, dolphins, seals, and jackass penguins are common.
During April & May, you can experience the start of the exhilarating Sardine Run when dolphins, whales, seals, penguins, sharks, and birds chase the Biggest Shoal On Earth up the South East Coast of South Africa.
The Spotted Ragged Tooth commonly referred to by the locals as "Raggie's" are often found swimming through the network of gully formations at various dive sites. Get up close to these large fearsome looking (yet docile) sharks in their natural environment without bait or cages. Our best location is merely a 5-minute boat ride from Hobie Beach at a maximum depth of 18m making this an ideal dive for beginner divers.
The accessibility of shore diving and the ease of boat diving, the close proximity of reefs to the launch site, and the professional and personal care ensure that diving is a pleasure, an adventure, and thrilling every time.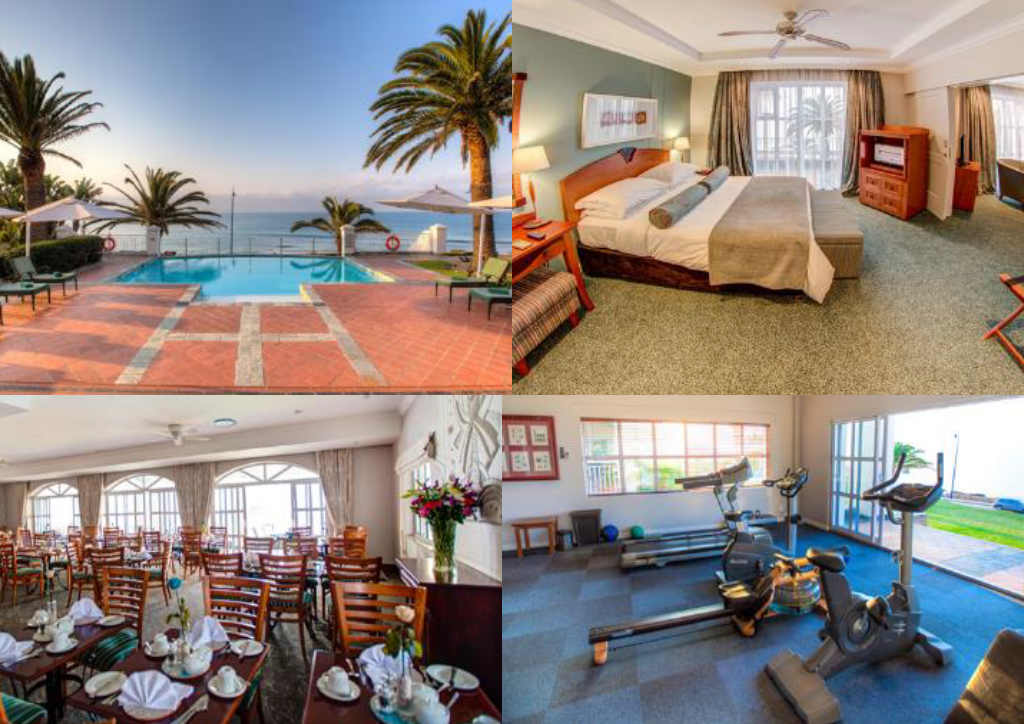 4 Nights 3 Dive Package INCLUDES:
Return Airport Transfers
4 Nights' Accommodation at The Courtyard in a Studio room (Upmarket accommodation ideally situated on the beachfront behind the launch site, surrounded by shops and restaurants)
Breakfast
3 Dives
Tanks, weights & air fills
4 Nights 3 Dive Package EXCLUDES:
Flights & Airport Taxes
Meals and beverages not specified
Additional Sightseeing not specified
Equipment Rental
3 Dives only Package INCLUDES:
3 Dives
Tanks, weights & air fills
TRIP UPGRADES:
Upgrade to Bedroom Suite: R 1 600 per person sharing

Single Supplement Applies: R 4 000

Extra Dives: R 595 each (incl. hire of the tank, weight, and air fill)

Full day seal dive excursion to Plettenberg Bay: R1 490
The Seal Colony is found on the Robberg Peninsula and is only a 10-minute boat ride from the Plettenberg dive centre. Dive amongst the seals as they swim playfully amongst you, blowing bubbles and moving in for a closer look.
FULL DAY SEAL DIVE INCLUDES:
Return transfers to Plettenberg Bay (2.5 hours per way)
2 Dives:
1 Seal Boat Dive
1 Reef Dive
Tanks & Weights
| Date | Trip | Type | Booking close on |
| --- | --- | --- | --- |
| April Fri 23 - Tue 27, 2021 BOOK NOW | Port Elizabeth, South Africa | Coastal | April Web 22 @ 12pm |