Teach Scuba Diving as a PADI Pro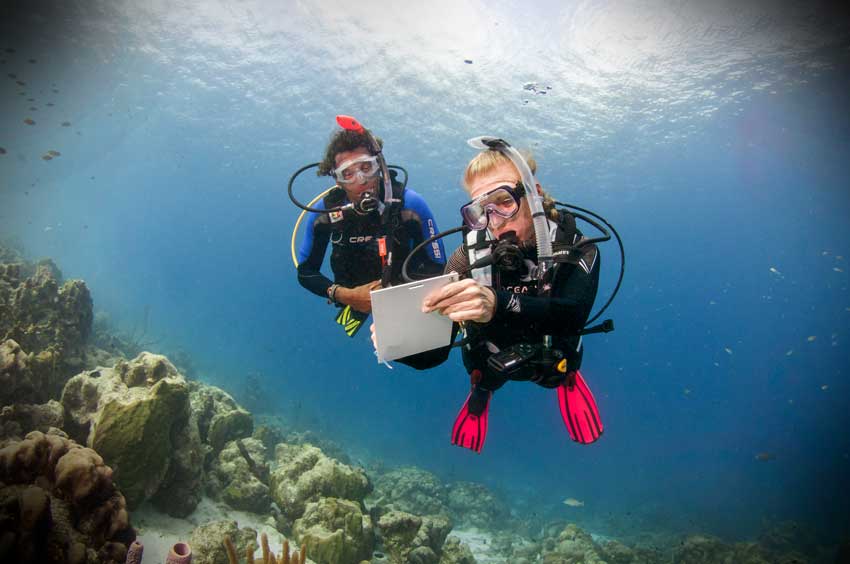 As you further your professional scuba diving education, you'll be able to offer more courses. Divemaster is your first professional step, and affords you quite a few opportunities. As an Open Water Scuba Instructor you can teach others how to scuba dive. Continue on up the ranks to Course Director and look at all the amazing things you'll be able to do!
Be a leader who mentors and motivates others. Gain dive knowledge, supervision abilities, and become a role model to divers around the world.
Love scuba diving? Want to share it with others on a whole new level? Take the PADI Divemaster course and do what you love to do as a career. Scuba divers look up to divemasters because they are leaders who mentor and motivate others. As a divemaster, you not only get to dive a lot, but also experience the joy of seeing others have as much fun diving as you do.
The Emergency First Response Instructor Course provides qualified individuals with the additional training necessary to teach the Emergency First Response Primary Care (CPR) Secondary Care (First Aid) and Care for Children Courses.
This course builds on your skills as primary and secondary care providers and focuses on developing your instructional abilities. The course is presented through classroom sessions and practice teaching assignments where you'll learn to independently conduct all of the Emergency First Response Programs.
At SCUBAVERSITY, as a PADI Assistant Instructor, you not only gain additional experience as a PADI Professional scuba diver, but you also start learning the PADI System of diver education. You can act as an instructional scuba assistant and assume limited teaching responsibilities. It's a great way to gain experience in order to become a scuba instructor!
The PADI Assistant Instructor course is the first portion of the PADI Instructor Development Course (IDC) and when followed by the Open Water Scuba Instructor course (OWSI) and successful performance at the Instructor Examination (IE), leads to certification as a SCUBAVERSITY PADI Open Water Scuba Instructor.
If you like people, have a passion for scuba diving and want an extraordinary life – become a PADI Instructor. Teaching scuba diving allows you to share your love of the aquatic world with others while doing what you enjoy – being in, around and under water. PADI Open Water Scuba Instructors and PADI Assistant Instructors are the most sought-after dive professionals around the world because they've completed the program that sets the standard for training dive professionals. You earn a PADI Instructor rating through hard work and commitment, but you're rewarded with a job that lets you share incredible underwater adventures with others – transforming their lives for the better and enriching yours.
The ultimate recreational diver rating. All PADI Instructors with at least 25 PADI Divers and have earned five or more PADI Specialty Instructor certifications can be a Master Scuba Diver Trainer. The PADI Master Scuba Diver Trainer rating sets you apart as a dive instructor who takes continuing education seriously and is committed to teaching a variety of courses. (Potential employers like this.) Being an MSDT signifies that you've got the experience and certifications to offer all the training a diver needs to become a Master Scuba Diver – the ultimate recreational diver rating.
Turn your freediving passion into a profession. This instructor course is for the avid freediver who spends a lot time thinking about freediving and sharing details of their latest adventures.
This course provides you with in-depth knowledge of the instructor development process and prepares you to shape the next generation of PADI Professionals.
Just as scuba divers look up to divemasters, instructor candidates really respect IDC Staff Instructors. As the name implies, IDC Staff Instructors assist with instructor training and share their wisdom and experience with new PADI leaders. Taking the IDC Staff Instructor course provides you with in-depth knowledge of the instructor development process and prepares you to shape the next generation of PADI Professionals. It's also a great career move.